Click on the arrows at the bottom right of the toolbar to see the catalog in full screen. Flip through the pages to learn about all of our products. Hit ESC to exit.
Ready to see the complete 2018 Tentwares Accessory Catalog?  Then fill out our contact form and request the password.
We wil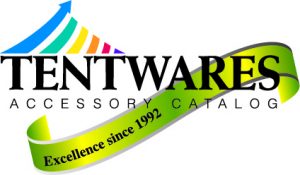 l email you the password to use with instructions on how to access the complete catalog with all of the pricing.
Feel free to email us  or call us at 1-800-245-7116 with any specific questions you may have on any of the products.